About California Push-Pull Inc.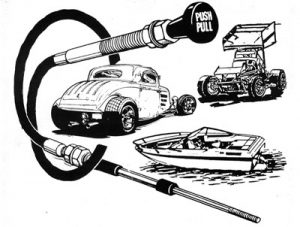 We are a Cablecraft assembler and stock various control cable components. We are able to build any type" size or length cable to meet your requirements. We are also a specialized custom cable house that can build any type cable or wire rope assembly to match your needs.
Our control cables are highly flexible and of heavy duty construction for long life under rugged conditions. AU end rods and support tubes are stainless steel. The components are swaged on for strength. We specialize in replacement cables too.
Our brake cable division uses only true OEM style flat wound lined housing. All components are swaged, not set screwed. Our brake cables are made to your specifications. We can build your cable from a drawing or sample.
We Stock a fun line of cable accessories, from adjustable devises, quick release ball joints, rod ends, cable clamps, imprinted knobs and much more, We have a variety of lever controls, valve adapters, joy sticks, modulator boxes, air control parts and throttle pedals.
We are a Ouadrastat distributor with a full line of Quadrastat controls. We have Allison transmission shifters and hydrostatic transmission controls. We stock parking brake levers, dump body controls; unidrum levers and custom lever controls.
We specialize in custom wire rope assemblies from swaged eyes, forks, turnbuckles and ball ends. Cables can be made to your specifications from 1/16 to 1/4 wire.